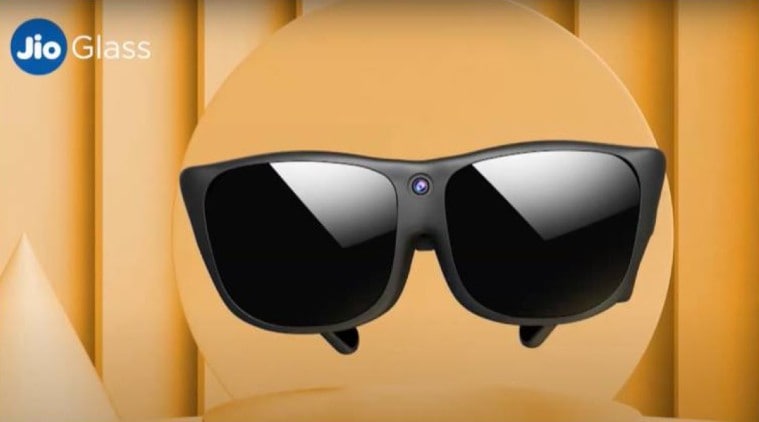 Reliance Jio, in its recent Annual General Meeting (AGM) introduced Jio Glass and created excitement in the community. Based on the short demonstration of the Jio Glass device at the AGM, we can understand some facts about Jio Glass and its capabilities.
What is Jio Glass?
Jio Glass is a wearable device that supports Augmented Reality and Virtual Reality capabilities.
What are the capabilities supported by Jio Glass?
- Augmented Reality (a capability that enhances real-world experiences with computer generated graphics)
- Virtual Reality (a capability that provides a real-world experience, virtually from the comfort of our living room)
- Voice / Video calls
- Voice commands
- Holograms
What are the applications supported by Jio Glass?
Jio mentioned that the Jio Glass comes with 25 built-in apps. The exact list of apps is yet to be made publicly available.
Jio has built and rolled out a number of applications / platforms over the last 4 years. For example, there is Jio TV, Jio Chat, Jio Meet, Jio Cloud, Jio News, Jio Cinema, Jio Saavn and Jio Browser. We can expect Jio Glass to support a number of these applications.
How does Jio Glass work?
Jio Glass pairs up with a mobile phone (similar to other wearables), to extend the capabilities of the mobile device.
Will Jio Glass support 5G capabilities?
Yes. Of course. As Jio Glass pairs up with a 5G phone, it would leverage 5G capabilities of the mobile device. Moreover, use-cases such as Augmented, Virtual Reality and Hologram works very well with a 5G device.
Will Jio Glass support 4G?
Yes. Considering the large deployment of 4G network by Jio, the device would also support the existing 4G network and will work with the 4G mobile phones.
How much does the Jio Glass weigh?
Jio Glass weighs 75 grams.
Will Jio Glass become successful like Apple iPhone?
Jio Glass' success is based on 2 factors:
- Use-ability of the device (It should be easy to use even for non-techies and should not cause irritation / fatigue, when used for long time)
- Durability of the device (Battery life, scratch / water / drop resistance etc.,)
- Affordability of the device (if the pricing is too high, not many people would prefer buying the device).
Google Glass hasn't taken off yet, despite multiple attempts from the company. We've to wait and watch if Jio Glass would be successful.
What is the pricing of Jio Glass?
Jio hasn't revealed the pricing of the device yet. However, an ideal price range would be Rs.10,000 - Rs.15,000 for the device to become a hit.
When will Jio Glass be available for purchase?
Jio hasn't announced the commercial availability date for Jio Glass. We can expect the early versions of the device to be available during the beginning of 2021.
Image Credit: Reliance Jio